COVID-19 Vaccine Statement
We're still investigating the COVID Vaccine at this time, and hopefully, by the time it is available for your tier, we'll have formed an opinion based on the available information. Recommending the vaccine would be an individualized approach and our team has generally been conservative when recommending new drugs and interventions. At this time, we recommend fortifying your immune system while we further investigate the vaccine. We do not claim to have all the answers but we have progressive therapies that we can offer at this time. Receiving a vaccination is a personal choice. We partner with our patients to provide guidance on these types of treatment decisions.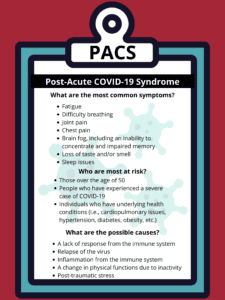 As the COVID-19 virus is spreading rapidly throughout the world, much remains unclear and unpredictable when it comes to the long-term consequences. There has been some research and statistics done when patients with COVID-19 have been discharged from the hospital. A significant number of patients with COVID continue to experience symptoms many weeks after contracting…
"I thought it was amazing in terms of the quality of information, especially backed up by literature. The clinical experience and cases are outstanding. I am impressed! Thank you."
-MD from NY
"The clinical knowledge and direct approach of the providers was excellent and I want to continue to have them as resources."
-DO from TN
"I am very grateful to Kathleen O'Neil-Smith and Angeli Akey for an incredible, knowledgeable, educational Peptide MasterClass. They provide these highly informative teaching podcasts and help us to find many clinical pearls in guidance. They both gave me a better understanding about peptides and implementing them into a healthier life. Thank you so much, and keep up the great work you're doing!"
-MD from RI
"TreatWellness Peptide Master Class was an incredible experience that I would recommend to any provider. When training as PA, there is no training in functional medicine or peptides. Therefore, this course was very beneficial. I feel very grateful for this opportunity and look forward to using the knowledge gained to better my patient care."
-PA-C from RI
"I have been treating women in a functional way for years, but have always struggled with pain. Dr. Akey made me see the key is the fascia! Thank you!" 
-NP from NY
"Within four months of getting my PCOS under control using the FIRRIMup™ Model, I was able to finally get pregnant."
-30 y.o. woman
"I can finally see again after my cataracts surgery went wrong. I am very excited to have myself back and I can finally drive at night again without pain!"
-75 y.o. woman
"I've gotten so much better since using peptides. I no longer have chronic pain, my gut is fantastic, I noticed a huge difference. I've been in the practice for 11 years now and have never seen another Doctor. THANK YOU!"
-50 y.o. woman
"After 2 weeks I could finally lay down to go to sleep at night and still be able to breathe. I'm so grateful."
-60 y.o. woman
"I've felt more vibrant, stronger, and tighter. I recover quicker, lose weight easier, and have better mental clarity. I sleep 10x better and experience no bloat after meals since using epithalon for 50 days."
- 50 y.o. man
Dr. Angeli Akey
She has been in clinical practice for more than 25 years. She is also the founding medical director of North Florida Integrative Medicine, Ageless Medical Solutions, and the Palm Beach Institute of Preventive Medicine...Read More
Dr. Kathleen O'Neil-Smith
She is an innovative and compassionate doctor. She makes complex ideas simple, a testimony to her early career as a college science teacher prior to going to medical school. She is the founding medical director of Treat Wellness...Read More
Information on this website is provided solely for educational purposes. This information should not be used as a substitute for the advice provided by your physician or any other healthcare professional. You should not use the information on this website in order to diagnose or treat a health problem or disease. Always speak with your physician or other healthcare professional before taking any medication or nutritional, herbal or homeopathic supplement, or using any treatment for a health problem or concern. Information and statements regarding dietary supplements have not been evaluated by the Food and Drug Administration and are not intended to diagnose, treat, cure, or prevent any disease.  Under no circumstances should you disregard professional medical advice or delay in seeking professional advice because of something you have read on this website. If you have or suspect that you have a medical problem, contact your healthcare professional promptly. Information provided on this website DOES NOT create a doctor-patient relationship between you and any doctor or healthcare professional affiliated with or featured on our website. 
Jumpstart Your Wellness Journey
Receive the first chapter of Dr. Angeli Akey's Fine-Tune Your Hormone Symphony for FREE when you subscribe to our mailing list.